WHAT IS ICE FACTORY?
Ice Factory is our OBIE award-winning summer festival of new work.

Every summer we invite the most exciting downtown companies to present their latest projects in an environment of generosity, dialogue, and inspiration. ICE FACTORY is a place where artists can take risks, try out new ideas, and bring their projects to a new level.

Plays introduced in Ice Factory have gone on to garner Drama Desk nominations, OBIE Awards, Audience First Awards in Edinburgh, Off-Broadway productions, commercial runs, and national and international tours.
"The temperature is now much more moderate, [but] the lineup isn't any less scorching!"
Alexis Soloski, Village Voice 6/26/13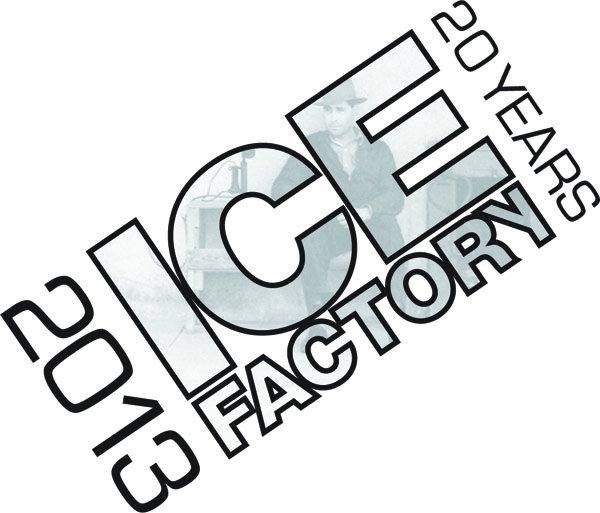 New Ohio Theatre presents
ICE FACTORY 2013
JUNE 26 - AUGUST 3
June 26–29

THE ASSEMBLY
THAT POOR DREAM
Created by the company, written by Stephen Aubrey, directed by Jess Chayes

Set entirely on a MetroNorth train traveling from New York City to Fairfield, Connecticut, THAT POOR DREAM draws on the company's own complex relationship to class identity and economic disparity in American society. Inspired by Great Expectations, Charles Dickens's classic novel about coming of age in a profoundly class-conscious society. MORE INFO...

July 3–6

SIGHTLINE
MY MACHINE IS POWERED BY CLOCKS
Written by B. Walker Sampson, directed by Matt Stone and Calla Videt, and choreographed by Jeff and Rick Kuperman

Imagine the day when time travel is a common thing. When a future can be seen and a past, changed. But everything is stacked upon everything else. Maybe you can escape your own time, but you may lose focus. You may even forget who you are.MORE INFO...

July 10–13

THE MAD ONES
UNTITLED BIOPIC PROJECT
Created by The Mad Ones

A hallucinatory meditation on 1960s folk rock culture and the confines of motel room 118. From the creators of the acclaimed Drama Desk Nominated Samuel & Alasdair: A Personal History of the Robot War and The Tremendous Tremendous. This is the final installment of their Performer Trilogy.MORE INFO...

July 17–20

COLLABORATIONTOWN
HELP ME TO MAKE IT
Written and created by Boo Killebrew, Geoffrey Decas O'Donnell, and Jordan Seavey, directed by Lee Sunday Evans, co-created with Lee Sunday Evans and TJ Witham

Multiple generations struggle from inside the architecture of contemporary families, as questions arise about fidelity, sexuality, gender, and the myths created to help us comprehend. Personal moments of everyday existence add up to lifetimes of monumental compassion, devastating betrayal, and inevitable transformation.MORE INFO...

July 24–27

BUILT FOR COLLAPSE
RED WEDNESDAY
Conceived by the company, written and directed by Sanaz Ghajarrahimi, and choreographed by Ben Hobbs

Journey through three generations of weddings, wars and discotheques in this multimedia ballad that follows the struggles and dreams of a family born into revolution. Inspired by the controversial story of Sadegh Ghotbzadeh, Iran's Foreign Minister during the 1979 hostage crisis, and written by his great-niece, the production unpacks the core issues at play between Iran, US and global interests. With a feverish score and high-octane choreography, the production gives voice to a rising global counterculture and asks: in a world consumed by fire who will be the final victor?MORE INFO...

July 31–August 3

ANONYMOUS ENSEMBLE
I LAND
Created by the company

Spend an evening on an island far from your daily lives – an island inhabited by your inner life. This meticulously crafted performance event investigates the evolution of our imagination as the audience is lead on an expedition into an uncharted terrain of commonplace fantasies and wildly improbable realities.MORE INFO...
New Ohio Theatre is a two-time OBIE Award-winning performance venue that serves the vast independent theatre community of New York and the adventurous audiences who love them. From our home on Christopher Street, we aim to establish a professional, high-profile platform for the independent theatre community, reestablishing the West Village as a destination for mature, ridiculous, engaged, irreverent, gut-wrenching, frivolous, sophisticated, foolish, and profound theatrical endeavors.

Ice Factory is made possible in part through funding from the NYC Dept. of Cultural Affairs, the New York State Council on the Arts, The Peg Santvoord Foundation, The Frederick Loewe Foundation, The Fan Fox and Leslie R. Samuels Foundation, and the generous support of patrons like you!