Produced by Studio 42
Written by Bekah Brunstetter
Directed by David F. Chapman

With: Brian Belcinski, Adam Blodgett, Jessica Dickey*, Sanam Erfani*, Aaron McDaniel, David Rosenblatt, Chris Thorn*, Liz Wisan*
*Appear courtesy of Actors' Equity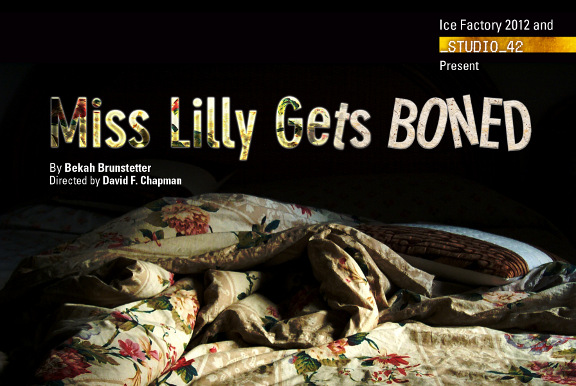 In its first half Bekah Brunstetter's sort-of-comedy actually feels like a sweetly
twisted send up of the [Hugh] Grant-model romcom. But there's more to 'Miss Lilly...'
than that. ... A witty, likeably bonkers little play! - Time Out London
Miss Lilly, a Sunday school teacher, has been waiting patiently for God to drop a man in her lap. When a new student – a young South African boy whose mother was killed by an elephant – disturbs the harmony of her classroom and his father disturbs the harmony of her heart, Miss Lilly is forced to re-examine her own sense of faith and self. Right or wrong, sinful or holy – a natural force is at work in Miss Lilly's classroom where her hymns are accompanied by the rumble of angry elephants and her prayers are answered by a stranger to her god.

Jessica Dickey
(MTC's Wit;
Rattlestick's
The Amish Project)

Liz Wisan
(LCT's Other
Desert Cities)

Chris Thorn
(Guthrie Theater's
Henry V)

Studio 42's mission is to produce "unproducible" plays.

Bekah Brunstetter's plays have been seen at Naked Angels, Ars Nova, Steppenwolf, Williamstown, the Atlantic Theater, and Finborough Theater.

David F. Chapman is a director, writer, solo performer, and teaching artist whose work has been seen in New York, Chicago, London, and Vietnam.